A bit of indulgence on this post. Since September of 2004--nearly two years--I've been slowly and painfully working on a project to swap an LS1 motor into a 1994 Mazda RX7 R2. Sacrilige! Many people do this swap in under six months, but I'm very particular about how I work on my personal cars so I've taken my time and gone out of my way to do things the right way.
The project is far from over, but today I finally got the car tuned at a local LS1 specialist. For the car geeks out there, here are the stats:
1994 RX7 R2 chassis with 100K miles
2001 LS1/T56 pullout with 45K miles (originally from a WS6 Firebird)
AFR 205cc heads, Futral F13-114 cam, ARP rod bolts, Futral moly pushrods, ARP head studs
Sanderson 1 3/4" headers, 2.5-3.5" Y to 3" Racing Beat single tip
Hinson Supercars K-member
2003 Ford Cobra 8.8" rear end with 3.73 gears
Modified Jim LaBreck rear cradle
Driveshaft shop hybrid 300M axles and Denny's 3.5 Aluminum driveshaft
Endless/Zeal Function X (11kg/10kg springs)
18x10 CCW 3-piece wheels with 285/30/18 Michelin Pilot Sport Cup tires
A ton of other modifications
Curb weight: 2800 lbs
5.6 pounds per horsepower (or 357 hp per tonne in UK specs)
Here's the dyno chart from today on Rick's Dynapack: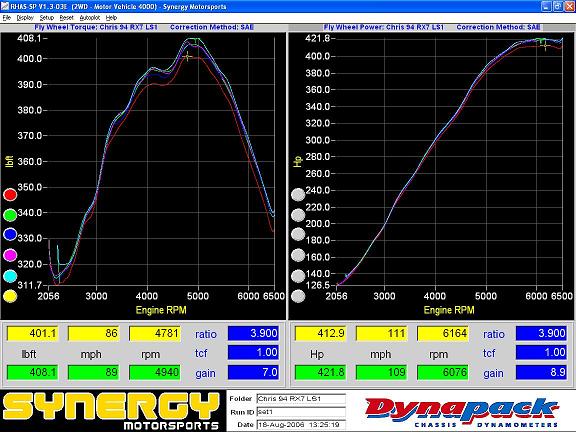 421 rear-wheel horsepower means that at the crank the motor is just shy of 500 HP. Even with the PS Cups, the car breaks traction on shifts in the first three gears! The list of cars you can buy today that have as low as 5.6 lb/hp is very, very small. And most of them (Enzo, Carrera GT, Veyron, etc.) are over 3000 pounds without the driver.
I'm very satisfied that I'm seeing over 400 lb-ft of twist as well. The thing that really gets me is the fact that I have more torque at 2500 RPM than my 13B rotary did at its peak.
Can't wait to get it out on the track...but need to do the brakes first.