"For a quick lap at the Nürburgring, you've probably experienced more in seven minutes...than most people have experienced in all their life in the way of fear, in the way of tension, in the way of animosity towards machinery and to a racetrack." —Jackie Stewart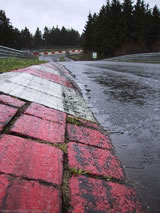 Despite masterfully dominating a rain-drenched Formula One race there, Jackie Stewart called it "The Green Hell" without any sense of irony. For over eighty years Nürburgring Nordschleife has stood as the definitive one-lap test of man and machine, becomming a Mecca for automotive enthusiasts worldwide. There is nothing else even remotely like it in the world. Nestled among the endless dark green trees of the Eifel mountains in western Germany, this 13-mile circuit is arguably the most difficult and dangerous track anywhere in the world—and despite that, it's open to the public! Truly a gift only the Germans could give us.
The Nordschleife (literally, northern loop) features sweeping curves, variable surfaces, rapidly changing weather, dramatic climbs and drops, and a straightaway over a mile long where terminal speeds can be reached. It is the yardstick by which all production cars are measured. It is as unique as it is overwhelming. There may be other tracks, but there is only one Nürburgring.
This guide was written with the U.S. traveler in mind, but it can be useful to anyone who has decided that they must see the Ring for themselves.
Returning visitor? Skip directly to the "What's new this year" section!
---
---
I am a huge fan of the Nürburgring, and I take a great sense of satisfaction by helping other like-minded people create their own memories there. However, the Ring is a dangerous place. You should not go there with any illusions about the risks involved. People die each year at the track, often in accidents caused by factors beyond their control. I could write more, but I believe Ben Lovejoy's page on the dangers of the Ring pretty much says it all. Please take the time to read them.
To quote Ernest Hemingway:
"There are only three sports: bullfighting, motor racing, and mountaineering; all the rest are merely games."
This eqloquently sums up the attraction to a place like the Ring. Beauty, excitement, and danger. Just don't overlook the danger part. Now, with that said, read on!
| | |
| --- | --- |
| In case you are too lazy to actually read this guide | < back |
Okay, so you're in the MTV generation and have a attention span of about 60 seconds. If you read nothing in this guide except this section, do yourself a favor and follow this simple advice:
Prepare ahead of time with maps of the track, YouTube videos, and your favorite Nürburgring-equipped driving sim (e.g., Gran Turismo 4)


Stay relaxed, go easy, focus on braking and turning points, and for god's sake don't time your laps


Make sure you constantly watch your mirrors for rapidly approaching traffic, always using your right-hand turn signal to indicate for people to pass you on the left only


If you're in a road car, do one or two laps and then let the car cool down in the paddock for at least 10-15 minutes—else your brakes and tires will be quickly destroyed


Drink lots of water and have frequent snacks throughout the day


Try to get lots of sleep at night and severely curtail your drinking/partying


Recognize that the Ring is a one-way public toll road, so if you cause an accident, you will be liable for damages to the track, the cars, and the humans inside them


If you have an emergency, call the Ring emergency line at +49 8000 302 112; the Ring office is +49 2691 302 215; you can get track info at +49 2691 302 620


Leave your ego behind in the paddock—it's not a race, and no one is keeping score


Get on the web, check out the prices, the opening times, and plan ahead of time for your trip
These tips should greatly improve your experience and keep your car out of the barriers. Now, do the right thing and read the rest of this guide, you bum.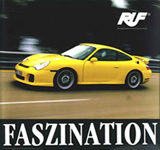 You probably already know about the existence of the Nürburgring Nordschleife. I first learned of it as a teenager watching a bootlegged copy of Stefan Roser driving the 1987 RUF CTR in the now-famous "Faszination", a promotional video for the Alois Ruf's successful Porsche-based supercars. Only a few years ago, the Ring was somewhat of a well-kept secret outside of Western Europe.
But a number of events have dramatically changed that, making the Nürburgring a household name among car enthusiasts here in the US. They include, in no particular order:
The inclusion of the Nordschleife in video games like Gran Turismo 4 and Project Gotham Racing


Automotive companies—starting in the 90's with Nissan's GT-R Skyline—using the Ring as a marketing tool and a proving ground, and establishing the 8-minute lap as the requirement for any supercar


Viral Internet video—YouTube in particular—making videos of the Ring available everywhere (including the FUF Faszination video)


The November 2004 Top Gear episode where Jeremy Clarkson struggles to drive a diesel Jaguar around the Ring in under 10 minutes [ part 1 | part 2 ]


Car owner and racing b-boards that include a global user base, some of who visit the Ring regularly


Nowadays it's impossible to pick up a motoring magazine without seeing at least one picture of a new prototype spied testing at the Nordschleife. Today, if you don't know about the Ring, you're out of the loop! But from outside of Europe, it seems like an unrealistic dream to make the pilgrimage to the largest and most challenging racetrack in the world.
But guess what: you can do it! Going to the Ring is not nearly as complicated or expensive as you might think, and it is well worth the trouble. This guide was written to encourage you to make the trip, to arm you with the necessary knowledge, and to help you do so in a responsible and respectful manner that will help keep the Nürburgring a fun and safe place for all automotive enthusiasts.
This guide has been (re)designed to be as simple as possible, anticipating the questions you're most likely to have. It's not the ultimate source of info, but it will get you through your first trip. After that, you'll begin building your own knowledge base. Be sure to share it.
| | |
| --- | --- |
| Nürburgring at a glance | < back |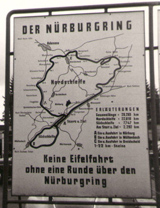 Thirteen miles long. Over 70 turns. Blind corners. Jumps and drops. Sun on one half of the course, rain on the other. Can there be a more challenging and exhilarating track?
No, for this is the mighty Nürburgring. The local town of Nürburg—which is located inside the perimiter of the track—takes its name from the 11th Nürburg castle. The name 'Nürburgring' literally means the Nürburg circuit.
Since its completion in 1927, the track has undergone several major changes, but the basic layout has survived: two tracks, one in the north and the other in the south. The map on the right shows this origial layout.

The 20.8km Nordschleife (literally, northern loop) retains most of the original design. However, the original Südschleife (southern loop) was demolished to make way for a new GP circuit following the fiery Formula One crash of Nikki Lauda [ image 1 | image 2 | video ] on the Nordschleife in 1976. In its place, a modern 4.5km GP-Strecke was constructed in 1984 that conforms to modern safety requirements. All F1 events are now held on this circuit. The current layout of the entire Nürburgring can be seen in the track tutorial a little later in the guide.
It's rather ironic that these two tracks—one very safe, the other quite dangerous—sit adjacent to one another. And for some races, including the Nürburgring 24h, the two tracks are combined to make a massive 24.4km Gesamtstrecke ("Whole Course").
That said, it is on the old Nordschleife that Touristenfahrten (tourist drives) take place. It's amazing to think that someone like you and I can simply drive up, buy a ticket, and take a lap of this unbelievable circuit. No waiver forms, no instructional videos. Just put in the ticket and go.
| | |
| --- | --- |
| How do I pronounce that? | < back |
The easy way is: just call it the Ring like most people do. But if you want to give it a shot, the 'Nür' part of the name sounds a bit like saying 'New-uhr', and the 'burg' is a bit like 'boo-org' although most English-speakers say it 'Ner-berg-ring'. The locals don't seem to care; they're pretty much used to you mangling their language.
You may find that many of the locals (and staff of the track) refer to the track more precisely as the Nordschleife, since that's actually the circuit you're racing on.
The written world can be a bit more confusing. You'll sometimes find Nürburgring written without the umlaut over the first 'u' (i.e. "Nurburgring") or sometimes with the 'u' replaced by 'ue' (i.e. "Nuerburgring") as this is a phonetic spelling of the word when the 'ü' can't be written (like in US-ASCII, used for URLs). For instance, the official Nürburgring web site is actually www.nuerburgring.de.
| | |
| --- | --- |
| Where is the Nürburgring? | < back |
View Larger Map
Take a look at the map of Europe above. The Nürburgring is centered in the map, so click the '+' button to start zooming in. You'll see that the track is in the western part of Deutschland (Germany), on the eastern edge of the Eifel Mountains. This is the first mountain range inland from the coast which accounts for the rapidly changing weather conditions that are a hallmark of the Ring.
As you zoom in further, you'll see markers for the two largest cities within a few hours of the track: Köln (Cologne) to the north and Frankfurt to the east. Keep zooming and you'll finally see the outlines of the track. You'll notice that the town of Nürburg is actually inside the track itself. The track is that big!
There are several other small towns in and around the Ring. The largest is Adenau, just northwest of the track. Left-click and drag the map around to investigate different parts of the map. If you switch to satellite view, you'll see that the 'P' marker is actually located in the main entrance/exit to the Nordschleife, called Grüne Hölle, which is German for 'Green Hell'. Cute.
Another key point: Nürburg should not be confused with the town of Nürnberg in Bavaria (to the southeast) which is commonly known as the site for the Nazi trials at the end of World War II.
Fly to the Frankfurt Am Main (FRA) or Cologne (CGN) airports. You can choose other airports for a more scenic route, but I don't recommend it for first-time visitors. Driving to the ring will take you 2-3 hours depending on traffic and weather. Click on the following links to get turn-by-turn driving directions from Frankfurt Am Main (162 km) or Cologne (102 km). Flights from the US tend to be cheaper into Frankfurt, so this is usually the best option.
| | |
| --- | --- |
| When is it open, and when is the best time to go? | < back |
The opening times for the Ring vary throughout the year, so the only reliable option is visit the official Nürburgring website—specifically to the English page for opening times. The interface is clunky, but you can use it to search for the hours of operation for a given range of dates. The calendar is usually locked in by February or March, but it's been known to change during the year so be careful. What you're looking for is a date where the track is open all day, as this will give you the most time to enjoy yourself and not worry about time lost to track closings due to accidents.
In terms of season, some will tell you that there are better times than others. But the truth is that the average precipitation for the region is nearly constant throughout the year—which is why it's so green there. The months of April-September are good bets, but you might want to avoid weekends where there are major bank holidays in the UK or western Europe, as that will ensure that the paddock is absolutely packed with cars (which means longer lines and more track closures due to accidents).
A wonderful plan is to find a weekend where you can arrive on Friday or leave on a Monday. This way, even if the weekend is busy, you'll have a week day that's relatively quiet. This will also give you plenty of time to drive to the various parts of the track and take some pictures alongside of the spy photographers.
| | |
| --- | --- |
| How much money will I spend? | < back |
Depending on where you stay, what kind of car you drive, and how many laps you do, the cost can be anywhere from reasonable to downright exorbitant. I won't itemize everything here, but over a weekend you can expect to spend as little as $2,500 (flights included) if you drive your rental car on the track. If you want to go with a track-prepped car (more expensive, but can do more laps) it's closer to $5,000. Also, driving the ring with a buddy is a lot more fun than going solo, and helps bring the cost down quite a bit. Considering that you can easily spend over $2,000 on a 5-day cruise...well, the price seems quite reasonable.
The price per lap can increase year to year, so check out the official site for prices and then consider that you'll drive between 10 and 30 laps a day depending on how much punishment your car (and you) can take.
Make sure, however, that you budget accordingly and take into account the ever-changing exchange rate between the US dollar and the Euro. Don't bother changing a lot of cash; you can pay for almost everything with your credit card, and the exchange rate is usually better than the money changers at the airport.
There are quite a few small inns and hotels at the track. There is nothing like waking up to the sound of cars being tested early in the morning while the mist still hangs low.
| | |
| --- | --- |
| How do I get a car to drive? | < back |
This can be a hard decision. You've got five choices here:
Ride along in someone else's car — it may sound silly, but this probably poses the least risk to your wallet and your health. Try to pick someone you trust preferably with decent knowledge of the track. Riding as a passenger is exhilarating, and will allow you to experience the Ring firsthand—more than most get in life. Join the Ringers forum, post the dates that you plan to be there, and develop some relationships that could lead to passenger rides. Pax laps are very common in the paddock, and even seasoned drivers take advantage of them.


Drive a rental car — it sounds like a good idea, but the world of rental cars has changed in the past few years with respect to the Ring. Tired of getting their cars back with bald tires and vaporized brake pads, rental companies are now tracking their cars with GPS and hiring people to go to the Ring to spy on you. A friend of mine was banned for life from Hertz worldwide for driving his BMW 1-series diesel on the track. (Update: I've also been banned, so the danger is real.) Some companies have added large charges/fines if your car has significant wear of the brakes or tires. So lap your rental car at your own risk. Caveat renter.

However, if you do choose to rent a road car, there is quite a selection in to be had. You can rent anything from a subcompact up to a Ferrari Enzo in Germany, and insurance coverage varies among the companies. Ask to see a rental agreement in English first. Pay special attention to the deposit on the collision damage waiver—this can be thousands of Euro and will not be refundable in the case of an accident.

Just for the record I've rented several 911s, a 350Z, a few Mercedes SLK 180s, several Audis, a BMW 1-series diesel, among others. My recommendation for first-timers would be the SLK; it's rear-wheel drive, two seater, and has decent power. An alternative would be an Audi TT or Golf GTI if you can find one. Just don't drive more than two hard laps in a row on these cars or you'll lose the tires and brakes in half a day.


Hire a proper track car at the Ring — this is quickly becoming a very reasonable and convenient option. There are a number of companies in and around Nürburg/Adenau that can rent you well-prepared cars for use at the Ring. They are usually street cars with a racing interior (seats, cage, etc.) and a suspension/brake setup that can run multiple laps consecutively which is a big bonus. If it's your first time or you are not an experienced race driver, I recommend hiring a car with low horsepower and either front-wheel drive or traction control. Here's a few companies that I know of in the area with a small fleet of track cars:


Bring your own car — this is only really an option for either European delivery of your new car (offered by BMW, Mercedes, Audi, Porsche, etc.) or by shipping your car by boat. If you've got the time and the money to do this sort of thing, please take me with you next time you go. However, consider two important caveats:



You could crash. Remember, you're in the middle of Europe and you're driving the thing that's supposed to be in your garage next month. I met someone from the states who took delivery of his brandy-new GT3 and drove directly to the Ring. And then crashed on the first lap at the top of Pflanzgarten. Totaled. Not cool.


You could be denied entry. I haven't seen this myself, but I have heard reports that the Ring officials can turn away cars that have temporary tags. I don't know if they are looking for all temp tags or just those that somehow give away the fact that you're an American on a Euro delivery trip.



Drive a local friend's car — not strictly a bad idea, and a better one if you don't really like your friend that much. (Ha.) If your buddy has a hot ride and doesn't mind you pounding on it for a few days, then more power to you! But this is an unlikely option for most people traveling from overseas. Also, consider the guilt factor if you inadvertently restyle the bodywork...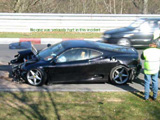 What about auto insurance? Officially, the ring is a one-way public toll road, so the insurance on your rental car is supposed to cover you. However, I wouldn't recommend letting the rental agency know what you're planning. And again, check the rental agreement to see if the Nürburgring is specifically excluded. As an aside, my US insurance did not offer me any additional coverage, but yours may. Make sure you check. Crashing Porsches can get pricey. Ferraris even more so.
People who use their credit cards to cover auto insurance should also be very careful here. Most cards specifically exclude sports cars or vehicles over $50,000 in value. I found that my American Express Platinum didn't cover most of the cars I had in mind. My US auto insurance similarly did not offer any coverage. Make sure that you know the facts before you get behind the wheel.
You're also liable for damage to the Ring as well, including Armco, towing, cleanup, and other amenities. A clever idea is to join the European equivalent of AAA which is called ADAC which will cover your towing costs instead of paying cash to the Ring flatbed.
So, what kind of car should you drive? It will be very tempting to rent the fastest, most powerful car you can. Please take this advice to heart: track knowledge and experience are everything at the Ring, and a high-horsepower car will only magnify the mistakes you will undoubtedly make. Choose something that you would feel comfortable driving on a mountain road in a downpour, because sometimes that's exactly what driving the Nürburgring is.
| | |
| --- | --- |
| What should I bring with me? | < back |
It's amazing how much stuff you need on a normal trip, and how little of it you'll need at the Ring. If you're just in town for driving, pack light, and leave everything nonessential at the hotel room. We had stuff sliding around the interior of the car on one of our laps; it's very distracting. Essentials for the track:
A great pair of sunglasses — they must be polarized, and should not be too dark. Make sure they fit and cover your eyes as completely as possible. (In my humble opinion, Revos fit the bill perfectly.)


A baseball cap — the sun gets low late in the day, and the sun visor doesn't always do the trick. It's also nice if you want to open the window at 150MPH and feel the breeze. And it helps keep the sun off you as you prowl the paddock to drool over the fine machinery that's parked all around.


A light pair of shoes — preferably driving shoes, although you don't need to be that extreme. But heavy, bulky leather shoes are a no-no. On my first trip I wore Doc Martins. Dumb. Heel-toeing was more like heel-oh-my-god-here-comes-the-armco-ing.


Chapstick — sounds silly, but your lips get pretty dry when you're hauling ass. Really.


Money — each lap is €21, and you can easily do 20 laps in a full day. You can buy tickets inside with a credit card, but there is a dispenser outside that takes cash. There is also a nice little restaurant in the paddock (cash only) which is a great place to rest between sessions, or when the track is closed for accident cleanup.


A digital camera — this goes without saying, but the scenery (both natural and manmade) will easily fill your memory card with goodness. Just don't be hanging out the car in the middle of a corner trying to get a picture of yourself driving.


A video camera — don't bring one. They have been illegal on the Ring for years and can get you ejected from the track. (However, for 2011 the Ring will rent you an officially-authorized camera and give you a 10% discount on your laps.) That said, first-timers should avoid fiddling with a camera or worrying about how you look on video. It will only distract you from keeping the car out of the Armco.


Don't bring — a driving suit or fireproof nomex underwear. You poser. Also, please leave the stopwatch at home. I'll bet you that the majority of crashed cars that come back to the paddock on the tow truck have a timer inside that's still ticking away.
| | |
| --- | --- |
| Can you help me learn the track? | < back |
There are a number of ways to acquire track knowledge before you arrive at the Nürburgring. This turns out to be very helpful, as the 73 corners—many of them blind, and very similar in appearance—can be very confusing.
The first and best way is to purchase a video game that features the Nordschleife circuit. My personal favorite is Gran Turismo franchise, but this is only available on the PlayStation. Alternatives include Project Gotham Racing 3, TOCA Race Driver, and others. Putting 50-100 laps on the simulator is a great way to familiarize yourself with the layout, but don't assume that you'll set fast laps in a real car straight away. Just use the sim time to learn the flow of the track, and don't be surprised when you go shooting up towards Hohe Acht and think to yourself, "this doesn't look anything like the video game!" It's hard for the sims to reproduce effects like elevation, g-forces, and fear.
Another useful preparation resource is a detailed turn-by-turn driving guide. I purchased one from circuitguides.com; they now offer a comprehensive Ring guide with over 140 pages of content. I've also included some pages from an older guide below that covers about 70 percent of the track. You can use these in conjunction with the driving sims to develop your lines and braking points. It's also a good idea to bring a printed set of these with you so you can discuss the circuit visually with others in the paddock or at the pub.
You can also review a few other map-related resources that will help you stay on the paved part of the circuit:
| | | |
| --- | --- | --- |
| detailed b/w map | color map | annotated aerial map |
| | | |
Study them well. Track maps can't communicate what it's like to drive on the circuit, but they can give you information to keep you out of the kitty litter and the barriers.
The third method of gaining track knowledge is even easier: go to YouTube and do a search for the Nürburgring. Sit back and watch a few dozen videos. If you're reading this page you've probably already done this, but it takes on a new meaning when you are trying to learn the course. Take the video game and track map experience and try to watch the videos anticipating what is coming up next. You should begin to predict when the driver will brake and turn in for each corner. You'll also be able to see the different lines and approaches people use.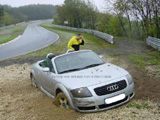 But ultimately the bottom line is that you must memorize the track. I'll say it again: memorize the track. I can't stress this enough. Nearly every problem you can get yourself into stems from not knowing what is going to happen next before it happens. You may not be able to control the cars around you, or the weather, or even luck, but you can make sure that you know the course like the back of your hand. Many, if not most of the turns are blind and feature abrupt camber variation and breathtaking changes in elevation. Carrying too much speed into a single corner is all it takes to turn your day into misery. Study the track. Watch the videos. Play the simulators. Memorize the track. Or end up like the guy on the right.
| | |
| --- | --- |
| Are there rules I should be aware of? | < back |
Technically, the Ring is a one-way public toll road. This means that the German laws apply. I'm not an expert here, but there are some pretty simple concepts that you must abide by:
Give way to faster-moving traffic, allowing them to pass on the left (using your right-hand turn signal to indicate that you see them approaching) but bear in mind that they do not have to wait for you to indicate and will assume that any space to the left of your car is for them to use


Obey all posted speed signs (there is a speed limit at the Breidscheid bridge, although it is not regularly enforced)


The traffic is mixed between motorcycles and cars (and the occasional tour bus, too). The right of way should be given to the overtaking traffic regardless of vehicle type, so keep an eye out for those fast-approaching bikers; they are expecting you to hold your line. Remember that they are far less stable and far more vulnerable than you in your car


If you have an accident—solo or with another car—you must report it. If there is another vehicle involved, you must make arrangements to meet with the other parties off the track. Think of it just like an accident on a city street; you can't flee the scene without exchanging information and potentially speaking with the authorities


For life-threatening emergencies call +49 8000 302 112. For incidents that do not require immediate medical attention call the Ring office at +49 2691 302 215. Now would be a good time to save those numbers in your mobile phone


If there is an incident ahead of you and you are the first car to arrive, you may be required to either warn oncoming traffic or provide medical assistance—but never do anything that will put yourself in harm's way. Please read Ben Lovejoy's accident procedures for more information.


You are liable for damages to the circuit, your car, and anything (or anyone) else you hit. The Ring will charge you for damage to the barriers and for the towing service, as well as a track closure fee. These can add up to several thousand Euro, which is another reason to not crash


Ben has a more comprehensive list of rules as well as the penalties that you may want to peruse
Stay safe and responsible. Give way, don't be aggressive, and concentrate on driving your line.
| | |
| --- | --- |
| How do I actually get on the track? | < back |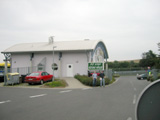 The primary entrace to the track is at the end of long Dottinger-Hohe straight and is called "Grüne Hölle" (Green Hell). The marker on the map above shows the exact location of the paddock. But if you're unsure, just ask someone where the entrance is, or simply follow the traffic of exotic cars...they are all headed to the same place.
The paddock is divided into two areas by the main structure containing the restaurant and bathrooms. (The bathrooms are notorious for their poor maintenance and lack of hand towels, which is a real surprise in Germany.) The BMW-sponsored "ring taxi" office is also attached to this building.
This is where you'll be waiting for the track to open, letting your car cool down, talking to other drivers, and watching the remains of cars and bikes return on the flatbed—hopefully not yours.
You'll also buy your tickets here. You enter the track through a set of ticket gates, run your lap, and then exit back into the paddock about 200 feet behind where you started. You can choose to drive right back up to the gates for another lap, or peel off into the paddock to cool down.
There is a second entrace to the track just inside of the bridge at Breidscheid next to Hotel An Der Nordschleife. However, this is never a good idea to use because it puts you into fast-moving traffic which may also lead to really stupid crashes.
| | |
| --- | --- |
| How many laps can/should I do? | < back |
A lot of this depends on the car, your skill level, and the conditions on the track. But if you brake aggressively and corner hard, normal road cars start to lose their essential materials (fuel, rubber, and brakes) much faster than you think.
One issue is that the size of the track (13 miles) is roughly 5-6 times as large as a normal road course. The other is that the track has many high-speed sections that require braking from over 100 miles an hour.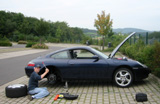 So the rule of thumb is that if you are driving a road car and want it to last, don't do more than two laps in a row. After that, let the car cool down (with the parking brake off so you don't warp the rear rotors) for at least 10-15 minutes. Don't believe that just because you splurged on a high-performance car (like the 911 in the picture) that you can run five consecutive laps. That's exactly how we managed to catch our brakes on fire, requiring some impromptu repairs in the paddock.
Based on the schedule above, you'll complete about two laps every 40 minutes. In a full 11-hour day (8AM to 7:15PM) that means you can get about 15 laps. That may not sound like much, but believe me, it is.
If you want to get more track time (by limiting the cooldown time) you need to take care of the tires and brakes. This means short shifting, lifting a few seconds before the corner, and generally taking the corners at about 70% of the limit. With this strategy you can run 3-4 laps consecutively. Just remember to watch your fuel gauge. The gas station is just down the road and is shown as the gas pump icon in the map above.
On the other hand, if you're driving a race-prepared car, your only worry is the low fuel light. That, and your credit card limit. Try not to hit either of them.
| | |
| --- | --- |
| Can you coach me through my first day? | < back |
Now would be an excellent time to read the warnings page from Ben's site now. Everything written there is true and very valuable for the first timer. Some people will only learn by doing something stupid, but here is your chance to be smarter than that.
So after watching the videos, studying the maps, reading the lists, and playing the simulators, you may feel prepared for your day at the track.
But it turns out that nothing, absolutely nothing will fully prepare you.
Been on a real GP track before? Done a few driving days at Laguna, Mid-Ohio, or Daytona? It is nothing like those courses. It is nothing like anything you've ever driven on. The track is so much bigger, so much steeper, so much faster than you can possibly imagine.
I don't think I can explain this in strong enough terms. You will be blown away. It is really an indescribable feeling as you work your way around for the first time. It looks like the track you've seen, but somehow it's completely different. And for some reason, video and pictures never communicate the vertical component of the track at all.
So the first bit of coaching is: before you run your first lap, do your zeroth lap as a passenger with someone who really knows the track.
The first time through Flugplatz your stomach is in your throat as the rear wheels leave the ground. You're frantically feeling around for a brake pedal in the footwell as you dive into Fuchsröhre and climb up to Adenauer-Forst. Kesselchen will take your breath away, as for quick drivers it is flat out. As you approach Hohe Acht—which in all seriousness looks as steep as a wall you're about to hit —you will think that the track was designed by a madman. Dropping into Pflanzgarten may well cause you to lose your mind with its long, sweeping, blind curves that whip through the forest. By the time you come sliding out of Galgenkopf onto the back straight, you feel like you've just surfaced from a deep underwater dive.
And you wonder what the hell you were watching in those videos—because is couldn't possibly be the insane roller coaster you just rode on!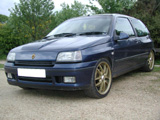 Your passenger lap is amazing. And it's really helpful. Rent a ring taxi from the paddock (about €120, call +49 2691 932020 or email them), or bum a ride with someone else. Many people in the paddock are very friendly and will give you a ride if you ask. For me, I can't stress how helpful it was to have a true ring nut, Ed Healy, take us around in his blue Williams Clio (like the one on the right). What a ride! You learn three things from this experience:
The track is very confusing, and it's easy to forget where you are (and what's coming up next)


It's really easy to let your car get out of control, especially over the bumps and off camber turns


Ed, in his tiny hot hatch, will beat you in your 911 without even trying
So try to process as much as you can, and remind yourself that you're not competing with anyone. You're just trying not to crash your car.
And if you still haven't done so, now would be a good time to put the Ring emergency telephone number in your mobile phone. It's +49 8000 302 112 (or 08000 302 112 if you have a German mobile).
Remember the hot hatch that smokes your 911? That's because you are not fast. Say it with me! You're not fast. You're not going to be fast, and even if you were, you won't be that fast. You could be driving an 800 horsepower F1 car, but you're still going to get shown up by sub-compacts.
Once on a lap I thought was quick I was passed by a modified BMW M1 going about 170 mph. Motorbikes will buzz past you like bees. Even the 5000lb M5 Ring Taxi will pass you. On the outside of corners. Get used to it.
You are not fast. Learn the track, learn your car, and keep it safe. If you manage to do this, you will have more fun than you have ever had in a car, and you'll come back in one piece.
Pay attention to your mirrors. People can overtake you very quickly. Cars appear out of nowhere. Use your corner signals and let people pass on the left only.
There are lots of cars that will be slower than you, too. There will be guys poking along in their S-class Merc. There will be vans. There will be tour busses. Wait to get a blinker or hand signal to pass unless you are totally sure that there is room and that they see you coming. Remember, pass on the left only.
If you see an accident or any other problem on the track, slow down immediately and turn your hazards on. Follow the accident procedures, but above all make sure that you don't cause (or become) another accident.
Take care of your equipment. Don't race. Concentrate on your line. Relax, stay focused, and have fun.
Oh, and did we already talk about the stopwatch? In case you accidentally packed one, for the love of god don't time yourself. If you really must know, I'd recommend some kind of GPS data acquisition that you can run continuously during the day and then download it to your laptop to figure out your times. But the psychology of the timer is: I blew that corner, so I have to make it up in the next one. Hello, Armco! It's your first day; just say no.
Re-read the section above on how many laps your car can do consecutively before staring to fall apart. Don't worry, there will be plenty of time to drive the car, but use your cooldown periods to get a snack, drink plenty of water, and relax. Carefully gauge how you feel. You'll be amazed at how tiring it is, and how quickly you become exhausted. Get some shade in the restaurant and stay cool.
Take some time to also inspect the car throughout the day. Make sure the tire tread is holding up, and that the brake pads haven't worn down to their backing plates. Also, take some time to circulate the paddock and thoroughly enjoy one of the only places where exotic cars get rightfully thrashed by their owners.
It's human nature to push ourselves. Unfortunately, it's all to common to push the hardest at the end of the day when we're tired, the light is low, and the track is cooling off. So there are two ways to do your last lap:
As the day draws to a close, you concentrate on the few sections of the track you keep missing. You hit one corner perfectly. You finish your lap with a smile on your face and head back to Tiergarten for a beer and a nice plate of pasta. Return your rental, get on the plane, have a cocktail and pass out.


You get it in your head that lap times are important. You become frustrated as subcompacts are kicking your ass. You're trying to beat a 9 minute Bridge-to-Gantry time. You loose your concentration and drive your rental car into the Armco. You lose the deductible. You have to pay for the Armco, too. And the tow. You have to deal with the German police. You have to get a lift back to the airport. You go to bed asking yourself why you thought going too fast was so important.
I recommend the first option. Seriously, there will always be someone faster than you. The best time to drive flat out is in a car you know very well after you've done a few hundred laps on the course. There are plenty of people who get away with driving like an idiot, but there are plenty who don't. Play it safe; the money you save by not crashing will pay for you to come back in six months and do it all over again.
| | |
| --- | --- |
| How can I (safely) get pictures of myself driving? | < back |
Since the use of cameras in cars is prohibited at the Nürburgring, it's difficult to get snapshots of yourself being a hero and challenging the world's most dangerous racetrack. If you have friends at the track they may be willing to hike out onto the course take photos of you (see the following section) but this might not be an option.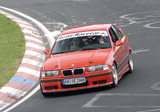 Fortunately, there are professional photographers that supplement their income by taking shots of nearly all the cars on the track during the day, and offer them to you for a fee. You'll usually find them at the Pistenklause restaurant in the Tiergarten hotel, or at some of the other gathering places for visiting motorists. The prices won't be cheap—expect to spend around €100 for a CD of photos—but the quality is great, and if you've gone through all the trouble run at the Ring, the incremental cost is well worth it. The picture above of the red BMW was taken by Jochen at Frozenspeed, and you can use his website to get in contact with him.
| | |
| --- | --- |
| Where can I take pictures of other cars on the track? | < back |
View Larger Map
There are a number of great locations where you can sit back, relax, and watch the cars (and maybe a secret prototype or two) drive on the Ring. Each of the locations above is accessible by parking your car at or near the location and walking up to the edge of the track. It goes without saying that you should never ever walk over a track barrier or cross the track on foot.
Use the map above and click on each of the locations for a brief description. My personal favorites are Brunchen and Pflanzgarten, both of which are very close together along the 412 road.
| | |
| --- | --- |
| Is there anything else to do around here? | < back |
View Larger Map
Nürburg and the surrounding villages aren't exactly centers of nightlife or entertainment, which is probably a good thing. But there are a few places you should check out if you have the time. Use the markers on the map above to find each point of interest.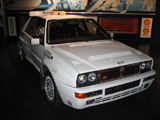 (Note: the museum, gift shop, and kart track are being replaced and will not be re-opened until at least 2009. See the What's New section for details.) The best thing to do with half a day is visit the Nürburgring museum at the GP track. Admission is €10, and it's well worth your time and money. There is a guided multi-language tour via headset (€5, I think) that you shouldn't pass up. Ben has some pictures of the museum, but they don't convey how cool it really is. There is also a hall of BMW cars which makes sense when you realize that BMW is a big sponsor of the track.
Connected to the museum is a cafeteria, a gift shop, and even an indoor kart track! The karts are great fun, but take care: those karts have been known to take a pretty physical toll, so don't overdo it. Unless you are a certain Irish gentleman, in which case you can handle any amount of pain. (You know who you are.)
If you drive up the road to the gas station, peek inside at the wonderful shop that sells a huge collection of scale model cars and other racing gear. You'll be filling your car up anyway, so drop by and check it out.
On your way back from the gas station, make your first left, and then an immediate left after that. You may recognize this intersection from the many spy videos you see on the web. There are two good reasons for this.
The first is that all the major automotive manufactureres have large facilities along this road. This is where the prototypes live. In order to get to the track, they have to drive past that intersection, so it's the logical place for photographers to wait. You should venture into the side streets along this road and check out the ever-growing number of secret garages.
(Note: It's been bulldozed too! See the What's New section for details.) The second reason is that next to the intersection is a building with a restaurant and a motorcycle dealership. The spy photographers have to eat, right? The food is decent, and it's a nice alternative to the food in the paddock so stop there for lunch on your way back from the gas station.
Going into the town of Adenau at night is not a bad idea, as there are a few nice restaurants and local hangouts. If you have a few evenings in the area, spend at least one of them here. Just go easy on the two-liter beers, okay?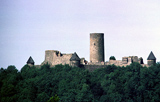 Take a tour of the 11th century Nürburg castle that sits atop the highest hill in the southern part of the circuit. It's a pleasant historical detour, and there are great panoramic views of the Nordschleife and GP circuits. It gives you a great perspective on the true size and scope of the Nürburgring.
The country side is really beautiful, and if you have time you might want to just noodle around taking it all in. Drive easy on the roads, though. The police will fine you and it displays bad taste to go romping around the B-roads when the world's best race track is right next to you.
The people are very friendly in the area, and are willing to try to communicate with you despite your lack of German proficiency. Don't be shy.
Believe it or not, the Ring is always changing. Development dollars are pouring into the region, and major manufacturers are doubling down on their investments in the Ring for development and marketing purposes. In fact, updating this guide has become an annual ritual for me. Here, in brief, are the major changes for 2011.
2008 was a big year for changes at the Ring:
The museum, gift shop, and kart track have been bulldozed — boy, was this a surprise to me. There were no fewer than six massive cranes in the process of building a massive new complex that is depicted in the picture at the right. These ultra-modern facilities will allow the Nurburgring to provide a wider range of entertainment. A lot of regulars see this as a bad thing, turning the track into a bit of a 'Disneyland' experience. We'll see how it pans out where the facilities are completed next year.


The motorcycle dealership and restaruant are gone too — as the number of factory garages increases, the land around the Ring is getting more expensive. Unfortunately this has led to some businesses being displaced. In this case it means there are fewer places to eat. You'll mostly be stuck with the less-than-stellar food at the Grüne Hölle cafe and their horrible bathroom maintenance policies. There are a few restaurants up around the entrance to the Nürburg castle that offer brats and schnitzels. There is also a small cafe attached to the gas station featuring a few choices of food and drink.


The 'Manufacturer Park' is growing fast — it's become obvious that every major manufacturer with a line of performance cars needs to have a permanent presence at the Ring. There was a lot of construction underway, and the garages seem to be increasingly doubling as brand centers that will undoubtedly be featured in the development story of the prototypes that lurk within the gated drives and opaque glass.


There are more supercars and 'exclusive' events — as the Ring increases in popularity, it's becoming a magnet of the über rich to show off their money and toys. I paced a Bugatti Veyron from the UK on the track (he took it easy) and on the last day half of the paddock was taken up by a brace of supercars pictured right. That's correct: an Enzo, a Maserati MC12, a Koenigsegg CCX, a Pagani Zonda F, and a Carrera GT all being prepped for a closed track event where playboys to drive slowly and probably crash. Amazing.


The track has some significant resurfacing — a few sections of the track have seen some attention. The most obvious of these is that the big bump in the middle of Schwedenkreuz that has claimed a fair number of cars. (I'm looking at you, Steve.) The result is that you can carry a lot more speed into the corner, or more conservatively it's less likely that you'll crash there. Some will complain that these changes remove some of the character of the circuit, but in this case I think it's a good tradeoff to reduce closure time and injuries. That said, I saw at least four incidents there over three days so it's still a very tricky corner. Whatever you do, don't lift.


There are more car rental options — a number of new rental companies have sprung up around the Ring, and several offer instructional components that are good for the driver as well as the rental company. Nobody likes a crash, thank you. In addition, BMW is increasing its presence at the Ring and offers high-performance driving schools, albeit at the GP circuit and not the Nordschleife. I've made some updates to the car rental section to reflect these new options.


The local real estate market is getting hot — as the Ring becomes more significant in the motorsport and automotive world, more people are spending long stretches of time in the region. A number of appartments and condos are starting to appear, genreally in the sub-100K Euro range. You can do some searches on the subject; Eddy at Hotel An Der Nordschleife has a few units for sale which should give you an idea of where things are going.


I'm sure there's more — if there's something important that I've missed, email me so I can list it here.

| | |
| --- | --- |
| Websites that can help you | < back |
The web has a plethora of sites that can provide you with current and historical information about the Ring. These resources are invaluable, and many of them have helped improve this guide.
First of all, none of this would have been possible without Richard Fabian who originally showed me the RUF CTR video back in the early nineties. I have been enamored with the Nürburgring ever since. I only hope that one day he gets to take his mint '79 930 and put it through the paces of the Green Hell. You owe it to yourself, Richard.
The trip that first brought me to the Ring was in no small part made possible by Shane Garvey, my partner in crime. We both managed to keep the shiny side up and the rubber on the tarmac for two days straight, which I consider a great accomplishment.
To Gwenael, Rich, Ed, and all the other ringers who helped me prepare for that first trip and made my time at the track so enjoyable, thanks for your kindness. And Ed, remember to clean those brake rotors off—the vibration is really kind of scary for a first-timer.
To Ben Lovejoy, who has one of the most useful web sites I've seen on the net. He was also kind enough to discuss options with me over e-mail in preparation for my first time at the Ring. The wealth of information on his site can really make the difference between a great trip and a disaster. Your tireless work is appreciated; keep it up.
To the various rental car companies who have selflessly donated tires, brakes, and in some cases more substantial car components to the pursuit of fun at the Ring.
To my girlfriend, who lets me repeatedly go despite the knowledge that I am an idiot who cannot be trusted.
And finally, to Germany, for being a fantastic country and home to the greatest race track in the world. May the Ring live forever.
See you there next time!
Photo credits: 1, 4, 6, and aerial photo from Ben Lovejoy's site. Photo 2 from RUF GMBH. Photo 3 from Hotel am Tiergarten. Photo 10 from Jochen/Frozenspeed. All copyrighted photos and maps are reproduced for educational use only. All other photos © Copyright 2002-2008 Christopher Heiser, heiser.net.
The information contained in this guide is for educational purposes only. While every effort has been made to provide useful and up-to-date information, there are no guarantees stated or implied as to the accuracy of the information contained herein. The reader assumes the responsibility to verify the information before employing it in any activites that are described in this guide. In other words: I'm trying to help you out, but if you go to the Ring and get into trouble, it's not my fault. Take responsibility for your own actions. And have fun!